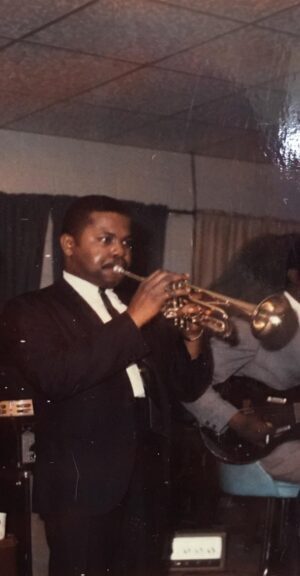 SmoothJazzTimes.com honors the late TeRoy Betton, Jr. for our debut issue. Betton, a musician, arranger, and composer, was known for his love of music and outstanding performance in the field of music. He gained recognition as a distinguished trumpeter, arranger, composer, writer and educator in Arkansas and all throughout the tri-state region primarily during the 60s, 70s, and 80s. He also became a nationally known recording artist utilizing his magical musical talents on several records pumping out cool sounds of R&B, Jazz and Funk. He has been touted as a "genius," some who worked with him have even said his talents were in the likings of Hollywood sensation Quincy Jones.
In addition to the B-Flat trumpet, he performed solo work on the flugelhorn and the piccolo trumpet. While the trumpet was his first love, Betton also played the piano and knew how to play many other instruments. He shared his gifts with students from across Arkansas and the nation. He served as the Assistant Band Director at the University of Arkansas at Pine Bluff (UAPB) and Adjunct Professor of Music at Philander Smith College in Little Rock. Years prior, he worked at additional Arkansas schools – he was Band Director at Columbia High School in Magnolia, Sweet Home High School and Mills High School. In fact, Betton was the first Black Band Director in southeast Pulaski County. He also wrote Mills High School's original Alma Matta. His band received numerous awards and recognitions for outstanding performances.
Betton taught private lessons in piano, woodwind, brass and percussion. The late great smooth jazz recording saxophonist Art Porter, Jr., took saxophone lessons from Betton as a young student growing up in Little Rock.
Betton took his first piano lesson at age 4. His father ordered a trumpet for him when he was 10. When the trumpet arrived in the mail, he took it out of the box and immediately started playing sweet melodies – his parents and siblings were so surprised!
Amid the civil rights movement and the crisis at Central High School in Little Rock, Betton was one of the eligible black students who lived in the Central High attendance zone who was asked to enroll at the school during desegregation. When he learned that the African American students at that time would not be allowed to participate in the extra curricula activities, including band, he declined attendance at Central High due to his love for music and remained at his high school, Horace Mann. Betton went to college and graduated Cum laude from AM&N (UAPB) with a Bachelor of Science Degree – Music; and later he attended graduate school at Ouachita Baptist University where he received his Master of Science Degree in Secondary Education/Social Studies.
He continued his work in the entertainment industry and became the founder, leader and manager for several music groups in the Little Rock area including TeRoy Betton and the Spiller's Allusion, The Playboys and The Fabulous Playboys. For many years he also played with Art Porter Trio on horns.
A multi-faceted musician, Betton played with many world renowned performers such as Sammy Davis, Jr., Ray Charles, Nancy Wilson, The Spinners, and Gladys Knight and the Pips.
Betton was a proud member of Mt. Zion Baptist Church of Little Rock where he also played the trumpet all throughout life. He was also a member of Omega Psi Phi Fraternity, Inc.
TeRoy Betton's musical talents touched the lives of many across the nation. He still has a fan base to date. He will always be cherished for his wonderful talents, love of music and the sharing of his gifts.
This article was updated on June 30, 2021.