The Arkansas Jazz and Heritage Foundation (AJHF) has announced that TeRoy Betton Jr. will be inducted into the Arkansas Jazz Hall of Fame posthumously on June 20, 2022, at the Arkansas Old State House in downtown Little Rock. SmoothJazzTimes.com is especially proud of this honor as this very magazine was created and dedicated to Betton when we launched in 2010.
The legendary great is known for outstanding performance in the field of music. Born in Fayetteville, AR and moved to Little Rock in early childhood, Betton gained recognition as a distinguished trumpeter, arranger, composer, writer, pianist, and educator in Arkansas and all throughout the region. He became a renowned recording artist as well.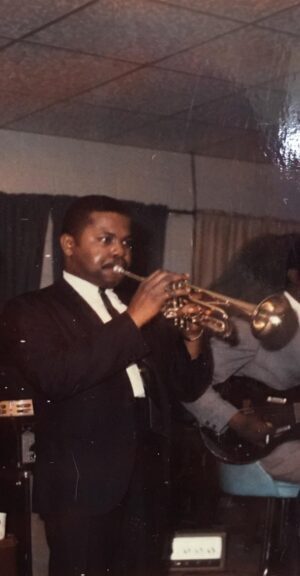 Betton is touted as a "genius," by many band members who collaborated with him. In addition to the B-Flat trumpet, Betton performed solo work on the flugelhorn and piccolo trumpet. While the trumpet was his first love, he was gifted to know how to play all instruments.
He served as the assistant band director at the University of Arkansas at Pine Bluff (UAPB) and adjunct professor of music at Philander Smith College. Years prior, he worked as band director at Columbia High School in Magnolia, AR, Sweet Home High School, and Mills High School in Pulaski County Special School District (PCSSD). In fact, he was the first black band director in PCSSD. He also wrote Mills High School's original alma mater. His bands received numerous awards and recognition for outstanding performances. Betton also took time to teach private music lessons to many students including the late great saxophonist Art Porter Jr.
Amid the civil rights movement and the crisis at Central High School in Little Rock, Betton was one of the eligible Black students who lived in the Central High attendance zone who was asked to enroll at the school during desegregation. When he learned that the African American students at that time would not be allowed to participate in the extra curricula activities, including band, he declined attendance at Central High due to his love for music. He graduated from Horace Mann High School in Little Rock.
While in high school, Betton also played the trumpet with York Wilborn and the Thrillers, a musical group that was popular in the Little Rock area. The group also played for Center Stage, a televised show across Arkansas that spotlighted black students' talent. The show was coordinated by the late Charles Bussey, Little Rock's first African American Mayor.
Betton went to college and graduated cum laude from AM&N (UAPB) with a bachelor's degree in Music, and later attended graduate school at Ouachita Baptist University where he received a Master of Science Degree in Secondary Education/Social Studies. He did further studies in Music at the University of Illinois Urbana-Champaign.
He continued his work as band leader for musical groups The Playboys, The Fabulous Playboys and TeRoy Betton and Spiller's Illusion that included drummer Yvette "Babygirl" Preyer who later played for many years with Grammy winning recording artist Michael McDonald. He also played with the Art Porter Trio which performed on the former television show "The Minor Key" that aired on AETN, now Arkansas PBS.
Many fans enjoyed Betton on stage at former venues in Little Rock including The Quarter Note, The Diplomat, and Cajun's Wharf to name a few. A multi-faceted musician, Betton played with many world-renowned performers including Sammy Davis, Jr., Ray Charles, Nancy Wilson, The Spinners, and Gladys Knight and the Pips.
He was a member of Mt. Zion Baptist Church in Little Rock where he also played the trumpet throughout life, and a member of Omega Psi Phi Fraternity, Inc.
"It is so heartfelt for our father to receive this honor. He appreciated jazz and all genres of music, and we know that he is smiling upon us from heaven on this remarkable accomplishment. Thanks so much to the Arkansas Jazz Heritage Foundation / Arkansas Jazz Hall of Fame for this distinguished honor and recognition."
– Daughters – Dr. Sherri Lynn Betton and Kim Betton
Betton joins outstanding musicians being inducted into this year's Arkansas Jazz Hall of Fame: Irene Crutchfield Brown, Bill Craig (posthumously), Jackie Lamar and Ken R. Walker. The big event takes place on June 20, 2022, at 8pm-10pm (CST) at the Arkansas Old State House. Doors open at 7pm. Tickets $40. For more information visit https://www.arjazz.org.
Meanwhile, the celebration kicked off with family and friends of the inductees in April. Click the video below for highlights.
VIDEO:
AJHF 2022 Picnic